National Library Week begins on April 3rd and concludes on Friday, April 7th this year. Library bucks will again be distributed generously. Play our games and/or just ask us nicely and recieve a bundle to spend on terrific items on sale later in the week.
Earn "big" bucks playing and completing the games, trivia contests and puzzles. Some contests are law-related; others are more generic -- everyone is welcome to participate.
Invitations have been issued for the traditional Support Staff Only luncheon scheduled to take place on Thursday, April 6th. Please be sure to RSVP.
We hope to see you then!
Monday - Let the Games begin! Free Coffee and Donuts Don't forget to ask for your 'Library Bucks' just for participating!
Tuesday - You Must Have Been a Beautiful Baby...come see baby photos of co-workers and guess who is who for even more 'Library Bucks'. Snacks and Drinks will be given out in the afternoon just for visiting.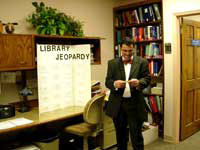 Wednesday - We are offering Healthy Snacks for a healthy you - Come play Law Library Jeopardy...categories include... Civics, Courthouse History, Library, Technology and Pot Luck.
Thursday - Support Staff Luncheon - by invitation only. Catered by Elegant Fare - Don't miss it!!!! It's the place to be.
Friday - 'THE BIG SALE'. Shopping at the 'THE LIBRARY STORE' opens at 8:30 A.M. No real money accepted - 'Library Bucks" only. All sales final.
COME CELEBRATE NATIONAL LIBRARY WEEK